An informative journey into the world of
Industrial Rubber Goods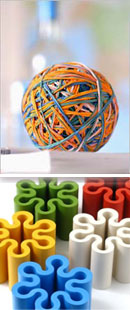 INDUSTRIAL RUBBER PRODUCTS is one of the most interesting B2B platform providing facts, information and current scenario of the industrial rubber industry, including an online gateway for making a profitable business related to rubber and rubber goods.

Get information on all types of industrial rubber products, natural and synthetic rubber, applications of rubber in various industries, including featured articles and buyer's guide. This portal also includes a product catalog and suppliers' directory, providing information on manufacturers and suppliers dealing with rubber and rubber products.



We have given a detailed description of all the Industrial Rubber Products. To mention some are - Rubber Adhesives & Sealants, Rubber Bearing, Rubber Gloves. For more details browse through following pages.

This section gives a detailed description about the different types Synthetic Rubber. To name few like-Butyl Rubber, Acrylic Rubber, Polysulfide Rubber. The rest is just a click away.

In this part of the portal we come across the various applications of industrial rubber like it's application in defence industry, power generation, chemical industry. Come explore the rest.

Product Catalog
We have extensively covered all the product categories of industrial rubber products to give you a clear insight.

Suppliers Directory
This directory will bring you face to face with the existing suppliers in the related field to enhance your business.

Trade Leads
These Trade leads will help your business to grow and will give you fruitful
Featured Articles
» How to Make a Custom Rubber Stamp?
11 Oct 2011- From among many office accessories, rubber stamps are the one that are really helpful in carrying out the work effectively and efficiently...
Featured News