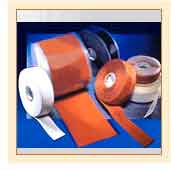 For any industrial rubber manufacturing business, calendered rubber products are the cornerstone. Calendered rubber products comprises a wide range of rubber products used in various industries, with each application having its own specific requirements. These rubber products are formed by the process of calendering.
What is Calendered Rubber?
Rubber that is formed by using a method known as calendering is known as calendered rubber. Such type of rubber is used to produce different products like rubber sheets, rubberized fabric, elastomeric films etc. Calendering is a mechanical process in which rubber or plastic is pressed. It is a finishing process which is applied to textiles and paper. During the process, fabric and rubber or plastic material pass through heated rollers to flatten, smooth and commingle the two or more materials and give a shiny, flat and smooth surface. The final surface characteristics depend on the pressure exerted by the rollers, on their composition, temperature, surface designs, type of coating or glaze initially applied to the material to be calendered. After the calendering process the material is then wound into rolls and placed into storage.
Two Important Byproducts of Calendered Rubber
Although there are several calendered rubber products, there are two main products which are widely produced and widely used. They are as follows:
Rubber Sheets: A very common product formed out of the calendering process is calendered rubber sheets. They can have multiple layers of both the elastomeric and polymer "combined" together.
Rubberized Fabric: Rubberized fabric formed from calendering is smoothed, glazed, polished, or given a embossed surface, depending on its use.
Types of Compounds Used
Elastomers that can be used include:
Neoprene
SBR
Natural
Hypalon
Urethane
EPDM

Viton
Fluoroelastomer
Butyl
Nitrile
Silicone
Fabric Materials
Rayon
Cotton
Polyester Blends
Monfilament Blends
Kevlar
Fiberglass

Nylon
Square Woven Cotton
Polyester
Fiberglass
Nomex
Rubber Calendering Products for Diverse Markets
Rubber Sheets
Conveyor Belting
Expansion Joints
Brake Lining
Rolled Roofing
Pinch Valves
Roll Covering

Industrial Hose
Tire Patches
Gaskets
Seals
Rubberized fabric
Graphic Arts
Buying Tips
For calendered rubber fabric or rubber sheets, factors to consider for purchasing are as follows:
Tensile strength
Weight
Width
Weave
Length
Thickness
Suppliers can supply calendered rubber products in the form of Sheeted Stock, Frictioned Fabric or Skimmed Fabric as per clients recommendations.