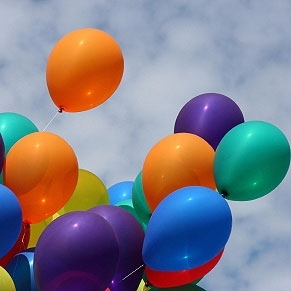 Rubber balloons as everyone know are the inflatable flexible bags filled with gases like, helium, hydrogen, nitrous oxide, air etc. Apart from rubber, balloons now-a-days are made up using various different materials like rubber, latex, nylon, polychloroprene etc. As per the material used, the uses of balloons vary accordingly like decorative, medical, transportation etc. The characteristic property of a rubber balloon is its low density and low cost.
Rubber Balloon History
Rubber balloon was first invented by Michael Faraday in 1824. He called it "caoutchoucs" and used it for his hydrogen experiments. Its interesting how he made the first balloon using two rubber sheets and attaching them by pressing the edges together. The sticky rubber got welded automatically and the rest of the surface was prevented from sticking by applying a layer of flour over it.
Rubber Balloon Industry
Today balloon industry is mushrooming at an ever increasing rate. Every major rubber balloon manufacturing companies produce around 1 billion latex balloons annually meaning that approximately 4 million balloons are produced in a day worldwide. All in all balloon producing and marketing industry has now become a multi-billion dollar industry.
We cater to wholesale supply of rubber balloons. For bulk requirement of rubber balloons, printed rubber balloons, latex balloons etc., send us online enquiry and get prompt response from genuine suppliers.Click here to send enquiry.
Rubber Balloon Uses
Rubber Balloons can be used for the following purposes:
Decoration and Entertainment
Modeling and Art
Advertising and Publicity
Flying Machines
Medicinal or Surgical Purposes
Rubber Balloon Safety Concerns
Rubber balloons are not as harmful as the metallized nylon balloons as they are biodegradable and shred easily but yet rubber balloons are harmful for marine life as latex tends to retain its elasticity for a longer period of time when exposed to sea water rather than the air.