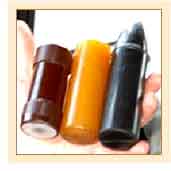 Rubber Bullets
What are Rubber Bullets?
Rubber bullets
are rubber or rubber-coated projectiles fired from guns. For this either a riot gun or standard firearms are used. Rubber bullet weapons are "less than lethal devices" but can be dangerous enough to pierce skin. Rubber bullets are non-lethal, when fired at short range and can be used for short range target practice. These bullets are small enough to be fired from a pistol (a rubber bullet pistol) or shot gun. Some other bullets are also made from wood, wax or plastic.
There are various manufacturers, suppliers, wholesalers of rubber bullets who are continuously working to improve bullet performance so as to attract buyers. However, it is also very important to consider various aspects like social and political considerations, health, safety, environmental issues etc.
Rubber bullets cause pain without giving any serious injury. But these may also lead to bone fracture, major injury to internal organ and even death.
Why are Rubber Bullets Used?
Rubber bullet weapons like rubber bullet guns and pistols are not used for causing permanent damage. They are such weapons that cause temporary discomfort to aroused people- like those in mobs with dangerous intentions of harming people- so that these people may be rendered ineffecient temporarily and could not harm anyone. Rubber bullet weapons are therefore mainly used to control riots or for self defence. Sometimes they are also used for recreational purposes.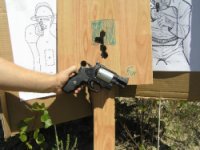 Rubber Bullet Pistol
Riot Control: Rubber bullets are used in the defense industry and by police who have guns that shoot rubber bullets. One frequently hears of "rubber bullets" being used by police in riot-control scenarios. Such projectiles when used within reasonable limits are an effective means of riot control and to break up protests.
Self Defence: Rubber bullets are also used by civilians for self protection. Nowdays, in many homes, people tend to keep handguns loaded with rubber bullets. Handguns are weak compared to shotguns and rifles and they can be operated using mediocre ammunition like rubber bullets.
Recreational Use: Rubber bullets are often used for short-range indoor target practice or training. They are intended only for target shooting. Rubber bullets, can also be recovered undamaged after firing when used with a backstop. Such bullets can be re-used numerous times.
We cater to wholesale supply of rubber bullets. For bulk requirement of rubber bullets, rubber bullets for shot guns, rubber bullet pistol, rubber bullet weapon, send us online enquiry and get prompt response from genuine suppliers.Click here to send enquiry.
Impact of Using Rubber Bullets Guns
Of all the materials used in making bullets like lead, lead alloy, copper, alluminum, plastic, rubber etc. rubber bullets are considered to be the non lethal and safest type of bullet by police and defense force. However, this is not always true. As per many study reports, guns that shoot rubber bullets used by police during riot controls can cause severe injuries to people. This is because most of these bullets, though are supposedly made of rubber are actually made of metal, bonded with
rubber coating
. Thus when we talk about rubber bullets, the term refers to both bullets made completely of rubber and also bullets that are made of rubber on the outside and metal inside.
How Do Rubber Bullet Guns Work?
Rubber Bullets Guns make kinetic impact munitions when used on the victim. This means they cause pain but not serious injury. Some of the injuries caused by rubber bullets are as follows:
Abrasions (a wound causing superficial damage to the skin).
Contusions (bruise).
Hematomas (collection of blood outside the blood vessels)
Bone fractures.
Injuries to internal organs etc.
Thus rubber bullets cause pain without giving any serious injury. But these may also lead to bone fracture, major injury to internal organ and even death.
RELATED ARTICLES