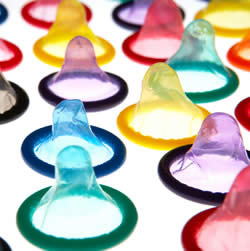 Condoms have been in use from a very long time and they are the most popular methods of contraception in the world. It was in the year 1839, Charles Goodyear found out a method of processing natural rubber, which was found to be stiff when cold and too soft when warm, which makes rubber elastic. The process of rubber vulcanization was patented by Goodyear in 1844. This particular property of elasticity of rubber led to the use of rubber in the making of condoms and the first rubber condom was produced in 1855. The earliest rubber condoms had a seam and were very thick. For many years, rubber condoms were produced by wrapping strips of raw rubber around penis-shaped molds. These molds were dipped in a chemical solution to cure the rubber. Later on, more and more designs were brought into the market.
Condoms are today available in sleeker designs. Research shows that thin condoms are no more likely to break than thicker ones. Condoms today are made of different types of rubber, plastic and synthetic materials. Silicone condoms, latex rubber condoms, polyurethane rubber condoms and all other varieties of condoms are very popular in the health sector.
Benefits of Rubber Condoms
Besides rubber, lambskin condoms are available in the market. These are made of sheep intestines and allow for a more natural feel but there is one disadvantage- they do not block viruses and bacteria. Latex or rubber condoms are the most reliable types of condom. When used correctly, these condoms are about 97% effective in preventing pregnancy and reducing the spread of sexually transmitted disease (STD). If a person is allergic to latex, then plastic condoms can be tried. Rubber condoms are also used for collection of semen for use in infertility treatment. In some cases, they are used in non-sexual uses like as creating waterproof microphones and protecting rifle barrels from clogging.
Rubber Condoms Designs and Features
Rubber condoms are waterproof, elastic and durable. Rubber condoms come with or without lubrication on the rubber. In some cases, separate lubrication lotion are available. Some rubber condoms come with a reservoir tip. The reservoir tip is intended to hold the semen after ejaculation. There are condoms without reservoir caps. There are fun texture rubber condoms in the form of ribs, ripples, or studs on the outside. Scented and flavored rubber condoms, silicone lubricant condoms, silicone coated condoms are all available in the market and can make sex more pleasurable.