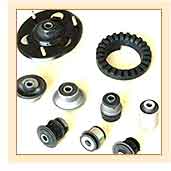 Rubber anti-vibration mountings are used in a vast range of applications where the prime objective is to eliminate harmful vibration and reduce noise and absorb shock. The high internal isolating properties of rubber make them well suited for making anti-vibration mountings. A wide range of rubber anti-vibration mountings is available.
Types of Rubber used
Natural Rubber
Neoprene
Silicone
SBR
EPDM
Functions of Anti Vibration Mountings
Isolate vibrations from work surfaces
Reduce noise levels
Absorb shock
Properties of Rubber Anti Vibration Mountings
Withstand the extreme operating environments.
Resistance to oils.
Resistant to surface abrasion wear and sunlight exposure.
Withstand large temperature fluctuations.
Radial elasticity greater than axial elasticity.
The rubber can work in:

Compression
Shear
A Combination shear/compression

A wide variety of dimensions is available.
Easy to Fix.
Types of Anti Vibration Mounts
Cylindrical Mounts: Mountings usually for general low cost applications. They are easy-to-install mounts, made of high quality rubber and provided with mild steel connection plates.


Technical Mounts: Rubber mounts providing a technical solution for reducing noise and vibration transmission and shock protection.


Leveling Mounts:The elastomer base has anti-slip ridges.


Anti Vibration Plates: Plates, providing a good protection and decreasing the noise level in workshops.

Applications
Rubber mountings provide vibration isolation solution to the following:
Cooling systems
Chassis to body excitation
Sensitive electrical /
electronics equipment
Cab mounting
Suspension systems
Engines

Transmissions / gearboxes
Fuel systems / fuel tanks
Steering linkages
Exhaust systems
Torque / drive couplings
Pipework
Electrical enclosures
Industrial Applications
General Industry
Rubber anti-vibration mountings are used for a variety of industrial application like as in compressors, pumps, generator sets, electronic components, agricultural machinery, and earth moving construction machinery.
Marine Industry
A wide range of rubber anti-vibration mountings are used for the support of marine propulsion engines, chiller-units, generator sets, cooling machinery, compressors and pumps. Exhaust Anti-vibration Mountings in combination with expansion joints are used for the flexible support and assembly of exhaust systems on board ships.
Automotive and Railway Industry
Couplings, rubber to metal-bonded suspension components, anti vibration mountings are available for use in the automotive and railway industry.