Things to Consider for Making Customized Rubber Stamp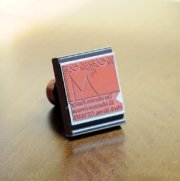 Custom Rubber Stamp
Whenever designing a custom stamp for your company, never compromise on its quality because in the end it is the most important medium which is going to establish your connect with your customers. For this, ensure the quality of material used in making custom stamp and even the clarity of impressions that a rubber stamp will leave. Thus, durable material and solid impressions are the foremost things to be considered when making a customized stamp.
Step by Step Instructions for Designing Custom Rubber Stamp
There are two aspects towards which attention should be paid while designing a custom rubber stamp. one- contact details and two- pictorial representations like logos or the special messages like company slogan etc.
Name of Company- Either standard or custom, every rubber stamp should carry the company name as the most clear and visible part. Make it attractive but readable and bold.
Office Address- Adress, even if not bold, should be clear and concise. Keep in mind the target audience- local or global. If you are targeting local customers only, you need not include state or nation details but if you are aiming at international customers, these details must find place in the stamp.
Phone or Mobile Number- Again, the same rule as that of address, applies here. If targeting local audience, avoid the state or country telephone code but if targeting international customers, make the STD as well as ISD codes visible on your stamp. Always showing telephone number with all codes may put your local clients in dilemma.
Email ID- Now, this is your standard identity for both- local and global customers which you can't avoid in today's technology savvy environment if you don't want to lose business from certain segments of customers.
Company Website Address- Your custom rubber stamp is also a personalized advertising tool for you. If you have a company website, put your website address right on there.
Company Logo- This is an optional thing to do but is a very powerful means to make felt your company's presence. Most of the businesses now prefer to have custom logo rubber stamp as it imprints your company's identity deep in the minds of the reader. What a logo says isn't possible to say even with thousands of words.
Company Slogan- For an added advantage, you can even put your company slogan on the customized rubber stamp but that will only be possible if the slogan is short or you opt for large rubber stamps. There is no benefit in making messy presentation of information.