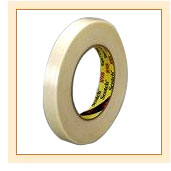 Rubber Adhesives and Sealants
What are Rubber Adhesives Sealants?
Rubber adhesives and sealants are very flexible materials that are used to join parts or fill gaps between seams or on surfaces. They protect different materials using rubber-based substances. There is a minor difference between rubber sealants and rubber adhesives. While adhesive is used to create a bond between two different or similar materials, sealant is used to create an impenetrable barrier to gas or moisture. Rubber adhesives sealants are available as aerosols, sprays, films, gels, liquids, slurries, solids, pastes, powders, and putties.
Why are Rubber Adhesives Sealants Used?
Rubber sealants and adhesives are ideal for joining or filling gaps in almost any material- ceramics, glass, concrete, paper, rubbers, elastomers, leather, textiles, metal, plastic, wood, porous surfaces, and even composite materials. Therefor, rubber sealants and adhesives have wide applications in aerospace, automotive, electrical, electronic, marine, medical, and military. These rubber sealants are also used in abrasives, optics, photonics, and semiconductors. Industries that typically use rubber adhesives and sealants include construction, consumer products, assembly, packaging, labeling, and transportation.
What are Rubber Adhesives and Sealants Made of?
The rubber adhesive sealants can be made of
natural rubber
or
synthetic rubber
. Rubber adhesives and sealants are made from various combinations of petroleum-derived plastic resins, synthetic rubber elastomers, and agents or additives which are used to enhance certain characteristics.
What is the Function of Rubber Adhesives?
An adhesive is used to bond or fasten materials together and its strength depends on two things:
The strength of attachment of the adhesive to the material surface called adhesion.
The internal strength of the adhesive called cohesion.
Another function of adhesive is Sealing.
Types of Rubber Sealants
There are various types of rubber sealants, some of which protect materials from water while others can protect them against corrosion and certain chemicals.
Natural Rubber Sealants
Natural rubber sealants can excellently join glass, paper, wood, plastic, rubber, steel, iron, ceramics, masonry, painted surfaces, plastics, and fabrics too. These types of rubber sealants can bind materials even in water and protects them from corrosion but they cannot withstand much weight or pressure. Therefore, natural rubber sealants are not advisable be used for such materials that require to be kept outdoors.
Silicone Rubber Sealants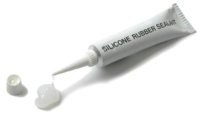 Silicone Rubber Sealant
Silicone rubber sealants are the weatherproof, watertight and flexible
rubber seals
. Silicon seals can withstand very high temperatures as compared to the other types of rubber sealants. They also do not shrink and retain considerable elasticity for longer time. Silicon rubber sealants are preferred to be used for sealing glass items.
Caulk Rubber Sealants
Caulk is a waterproof sealant which is generally used in building work and for repairs. There are many types of caulks available for home repair. These include silicone caulk, latex caulk, acrylic caulk, acrylic latex caulk, acrylic latex silicone caulk, and Butyl rubber caulk. Among all,
butyl rubber
sealant caulk is considered best for strongest bond, and is generally used to fill in cracks in bricks, concrete, and metal.
Types of Rubber Adhesives
Buying Tips for Sealants Adhesives
There are certain specifications that a buyer should know before buying rubber sealants and adhesives:
Gap fill: Maximum space that an adhesive can accommodate between the substrates.
Viscosity: Measure of fluidity of the adhesive.
Coefficient of thermal expansion: Linear expansion or contraction of the adhesive for unit change in temperature.
Thermal conductivity: The ability of the adhesive to transfer heat.
Elongation: The fractional rise in the length of the adhesive film under tension.
Tensile strength: Maximum stress that an adhesive film is capable of withstanding.
Rubber adhesives are made up of natural and synthetic rubbers. Pressure sensitive adhesives (PSAs) are mostly based on non-crosslinked rubber adhesives and are in a latex emulsion or solvent-borne form. Below are given the major types of rubber adhesives.
Natural Rubber Adhesive
This consists of a rubber solution and bonding is attained by evaporation of the solvent. This type of adhesive and sealant is not suitable for adverse environments or for structures that need to withstand high loads. It performs well in water. However, it is not resistant to oils and solvents. Natural rubber adhesives and sealants are used to bind glass, wood, paper, plastic, fabric, rubber, iron or steel.
Polychloroprene (Neoprene) Adhesive
This type of adhesive or sealant offers strong, quick and permanent bonds and the joints are made by contact adhesion without the use of clamps or jigs. This is used to bind plastics, wood, leather and metal.
Acronitrile Butadiene Adhesive
This type of rubber solution is used to bind rubber and plastics.
Butyl Rubber Adhesive
The adhesives have low permeability, inherent tackiness and aging resistance. This kind of adhesive and sealant is specifically used to repair the inner tubes of tires and to bind some plastics.
Styrene Butadiene Adhesive
This adhesive is usable in the automotive industry because of the pressure sensitive variation. It binds all rubber products.
Polyurethane Adhesive
This is a adhesive or a sealant having two component adhesives. This type of adhesive is resistant to acids, alkalis, solvents and oils. A variety of materials including plastics, metals, polyurethane and glass could be joined using polyurethane adhesive.
Polysulphide Adhesive
It offers chemical resistance and flexible bonding. Materials like wood, ceramics, concrete, glass, aluminum and steel could be joined using this adhesive which is also used as a sealant.
Silicone Rubber Adhesive
It features high service temperature in the range of 300 degree C and low shear strength. This type of adhesive is best suited for sealing applications, glazing and for binding metals, glass and silicone.
We cater to wholesale supply of rubber adhesives. For bulk requirement of rubber adhesives, rubber sealants, rubber adhesive sealers, patch rubber adhesive sealants, rubber coating sealant, rubber glue, silicone rubber adhesives, send us online enquiry and get prompt response from genuine suppliers.Click here to send enquiry.
Advantages of Rubber Adhesives
The rubber sealant and adhesive films formed after drying can be peeled off without causing damage to the surface of the adherent.
They adhere to a wide range of materials and feature a high initial tack.
Applications of Rubber Adhesives Sealants
Rubber sealants and adhesives are used in medical applications such as dressings, tapes, drapes and catheters.
They are also used in cosmetic applications.
Rubber sealants adhesives are used for surface protection, color coding, sealing, paint masking, aisle marking and splicing.
They are further used in building, construction, and pipeline applications.
Finally, rubber sealants and adhesives are used in abrasives, optics, photonics, and semiconductors too.
RELATED ARTICLES