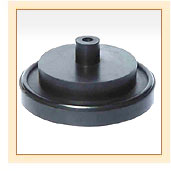 Automobile rubber products or auto rubber parts are used extensively in the automotive sector. The Rubber Industry as a whole is facing major challenges and change to meet the changing demands of auto industry in meeting material specifications, performance, durability and reliability requirements. The manufacture of rubber automotive products or components is a major sector in the rubber industry.
There are various components or parts used in automobiles which is made of rubber. There is the high-technology adhesive and sealant products required for the aerospace and other demanding applications in automobiles and automotive industries. Wheel or tire used in automobiles is made using rubber. In-fact, most of the rubber produced in the world is used in the production of tires. The air bag in vehicles which acts as a cushion in times of collision is made of rubber. There are dust covers and bumpers made of rubber which protect your car from external damage. There are rubber mats to help you to keep your car clean.
Some of the most popular automobile rubber components are as follows:
For more information on automotive rubber products, check out our section on
Extruded Rubber Products
.
We cater to wholesale supply of automotive rubber products. For bulk requirement of automotive rubber components, auto rubber parts, automobile rubber goods like rubber tires, rubber air bags, rubber floor mats, rubber seal, rubber bumper, dust cover, send us online enquiry and you will get prompt response from genuine suppliers.Click here to send enquiry.
» How to Make a Custom Rubber Stamp?
11 Oct 2011- From among many office accessories, rubber stamps are the one that are really helpful in carrying out the work effectively and efficiently...