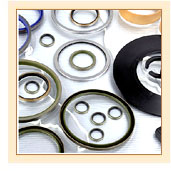 Industrial Rubber Products are in great demand in various industrial applications like mining, power generation, agriculture, transportation, paper industries etc.
Rubber has been used in the making of a wide range of products since a long period of time. Rubber is a name given to a lot of different polymers. These polymers are all elastomers that can be stretched out and they return to their original shape when you let go. The first rubber was the natural type derived from the sap of hevea trees in Central America. We still use it today, but with technology advancements, several other kinds of rubber that people invented, mixing different chemicals having different properties with the natural rubber. The artificially made rubber, "inspired" by natural rubber, is known as synthetic rubber.
Types of Industrial Rubber Products
Some of the industrial rubber goods can be categorized under the following heads:
There are different types of synthetic rubber such as Styrene butadiene rubber (SBR), Polybutadiene rubber (BR), Isoprene rubber (IR) , Acrylonitrile butadiene rubber (NBR), Ethylene Propylene (EPDM), Chloroprene rubber (CR), Butyl rubber (IIR), Fluorocarbon (FKM) which we have discussed in details in
Types of Synthetic Rubber
. Today syntetic rubber is used to make a variety of products used in industrial, residential and commercial applications. Many different rubber polymers are used in the production of industrial rubber products.
Due to the diversity of industrial rubber products applications, the rubber products have a spectrum of performance requirements, ranging from common strength properties to fluid resistance, conductivity, friction coefficient, permeation, and dynamic properties, and many more.