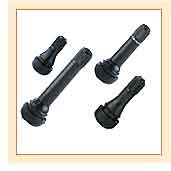 Rubber valves are used in a variety of applications. Valves are devices, available in various shapes and sizes, designed to meter, maintain or restrict the flow of materials through hoses, pipes, tubing or entire systems. Valves generally work by allowing flow while they are in their open position, and restrict flow when they are closed.
Rubber Valves Materials
EPDM
Buna-N
Neoprene
Natural Rubber
Nitrile
SBR
Silicone
Solid, Sponge Rubber
Viton
Types of Rubber Valves
There are wide varieties of rubber valves like check valves, ball valves, air pressure valves, butterfly valves, gate valves etc. A very common application of rubber valves is in tires and tubes to check air pressure. Rubber is used to design valves so as to allow one way sealing devices like as duckbill valves, umbrella valves, flapper valves etc. to withstand harsh chemical environments. The right valve design as per flow parameters can be produced by using rubber.
Functions of Rubber Valves
Valves are basically used in pumps and piping applications. Valves are made of various materials. Most valves are made of metals like iron, steel, bronze, cast iron etc. There are certain valves made of rubber. Thin rubber components like gaskets, seals and valves are used in several industrial products ranging from the gaskets used in pneumatic solenoids, kitchen food processors, tires, weatherproof electrical connectors, check valve to the valves used in oil filters and respirators and many other such products. Rubber valves are being used as nozzles on air splurging systems in hopper tanks, railroad cars, and silos to prevent packing or bridging of materials. They are also used on diffusers to help in aeration and aerobic digestion, and in sludge holding tanks so as to keep solids in suspension.
Features of Rubber Valves
Alleviate piping stress
Reduce noise
Reduce vibration
Permit lateral and angular movement
Permit axial compression and elongation
Non-corrosive
Abrasion-resistant elastomers
Heavy-duty, metal reinforced construction in some valves