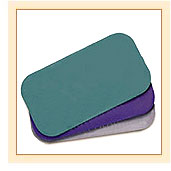 Rubber pads are thin flat mass of padding used in various applications for various purposes. Be it a mouse pad or stamp pad or soft landing pad or a foam pad, rubber is a very important material to make pads. Some pads come with crumb rubber. Such pads have hollow underneath for softness. The crumb rubber goes under the rubber pad to give the pad support and at the same time increase the shock absorption of the pad. The small-sized pads are use in light-duty applications while the big-sized rubber pads are used in various heavy-duty applications. There are soft landing pad which can be used to prevent muddy areas under swings and slides in playgrounds. The typical soft landing rubber pad is chosen by someone who wants to eliminate compacted ground and muddy areas commonly found under swings and slides. These pads are available in various sizes. These pads are resistant to most oils, water, steam and chemicals.
Types of rubber used in pads
Applications
Safety pads
Glass separator pads
Motor mounts
Orthotics
Marine floats
Arm Pads
Wall Pads
Exercise Equipment Padding etc.
Types of rubber pads
Rubber stamp pads: They are available in wide variety of sizes and are good choice for your stamping needs.
Foam rubber pads: These pads are made of natural rubber (latex) or synthetic rubber in various weights and thicknesses. There are numerous foam materials in a various densities so that you can attain the feel and compression that your application requires. They can be laminated with an adhesive backing so that the padding can be installed as a component in your product.
Crossover Pads: These are high tensile strength pads used to protect electrical or other cables, especially in the mineral processing and construction industries. These pads are made from various rubber compounds and are designed to be chemical, temperature and abrasion resistant.
Rubber mattress pads: A rubber mattress pad is a pad or a thick sheet used for offering extra cushioning and support to a bed.