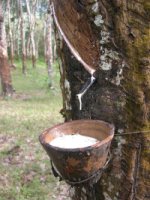 Natural Rubber Extraction
Whilst we have manmade or
synthetic rubber
produced from petroleum, around one-quarter of the world's rubber comes from a natural source.
Natural rubber
is a vital agricultural product or commodity which is used in the manufacture of a wide range of products. Rubber plays a major role in the socio-economic fabric of many developing countries. Over 20 million families are dependent on rubber cultivation for their basic source of livelihood.
What is Natural Rubber?
Natural Rubber
is an elastic substance obtained from the latex sap of trees, especially those trees which belong to the genera Hevea and Ficus. Technically speaking, natural rubber is an elastomer or an elastic hydrocarbon polymer. Natural rubber is one of the
types of rubber
that also include vulcanized rubber which is finished into a variety of rubber products. Natural rubber is also known by the names of India rubber, gum elastic, and caoutchouc.
How is Natural Rubber Made?
The raw material from which natural rubber is made comes from the sap of rubber trees. The rubber plants are tapped for collecting the rubber latex. For this, an incision is made into the bark of the rubber tree and the latex sap is collected in cups. After collecting the latex sap, the raw natural rubber is refined to convert it into a usable rubber. Initially an acid was added to the latex which used to make the sap set like a jelly. The latex jelly thus obtained was then flattened and rolled into rubber sheets and hung out to dry. In the year 1839, Charles Goodyear invented a more sophisticated way of making rubber stronger and more elastic. This was the process of rubber vulcanising. The unprocessed natural rubber is sticky, deforms easily when warm, and is brittle when cold. In such a state, it cannot be used to make products having a good level of elasticity. Vulcanization prevents the polymer chains from moving independently. As a result, when stress is applied the vulcanized rubber deforms, but upon release of the stress, the product reverts to its original shape.
Source of Natural Rubber
The natural rubber is produced from hundreds of different plant species. However, the most important source is from a tropical tree known as Hevea brasiliensis, which is native to the tropical Americas. This tree grows best in areas with an annual rainfall of just under 2000mm and at temperatures of 21-28 degrees. Due to these features and the preferred altitude of the tree around 600 metres, the prime growing area is around 10 degrees on either side of the equator. However it is also cultivated further north in China, Mexico, and Guatemala.
In 1876, Sir Henry Wickham collected some 70,000 seeds from Brazil. These seeds were germinated and shipped to the East Indies, where they began today's rubber plantations. Today Malaysia, Indonesia, and Thailand produces around 90% of the world's natual rubber. New plantations have also been started in Africa, The Phillipines, and Europe to make up for insufficient rubber output in Indonesia.
Natural Rubber Industry
The natural rubber industry has developed during the last 100 years, inspite of emergence of manmade rubber. The development of the industry has relied upon well-targeted research and development in various fields like agronomic science, breeding to raise productivity, and physics, chemistry and technology to support and expand a growing plethora of applications. You can also check
Rubber Industry Overview
for detailed information of rubber industry.
Natural Rubber Products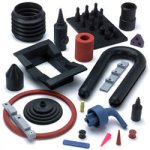 Natural Rubber Products
Products made from natural rubber, like
tyres
, engineering components and latex products which are used in the battle against AIDS and other disease are very essential to modern life. Natural rubber is available in many grades. However, the most important distinction is that between latex and solid grades. Latex is the liquid which comes out of the tree. Solid grades are produced from latex which has coagulated either in a factory or in the field. The natural rubber latex products are wide and varied like
gloves
, balloons, tubes, condoms etc.
Properties of Natural Rubber
Natural rubber has certain unique properties such as follows:
Natural rubber combines high strength (tensile and tear) with outstanding resistance to fatigue.
It has excellent green strength and tack which means that it has the ability to stick to itself and to other materials which makes it easier to fabricate.
It has moderate resistance to environmental damage by heat, light and ozone which is one of its drawback.
The natural rubber has excellent adhesion to brass-plated steel cord, which is ideal in rubber tyres.
It has low hysteresis which leads to low heat generation, and this in turn maintains new tyre service integrity and extends retreadability.
The natural rubber has low rolling resistance with enhanced fuel economy.
It has high resistance to cutting, chipping and tearing.
Uses of Natural rubber
Natural rubber forms an excellent barrier to water.
This is possibly the best barrier against pathogens such as the AIDS virus (HIV). That is the reason why latex is used in in condoms and surgical and medical examination gloves.
Natural rubber is an excellent spring material.
Natural rubber latex is also used in catheters, balloons, medical tubes, elastic thread, and also in some adhesives.
Other than rayon, it is the sole raw material, which is used by the automotive industry.
Rubberwood is another byproduct of natural rubber which is growing in importance. It is a source of charcoal for local cooking.
Natural Rubber Consumption
It is seen in recent years that there has been a shift in the rubber consumption patterns from North America and Western Europe to southern and eastern Asia. The major natural rubber producers (Malaysia, Thailand and Indonesia) have also become major rubber consumers. There is also the potential for Eastern European countries to increase its uptake of natural rubber. India, China and Brazil consume all of the natural rubber produced within their countries. Thailand is considered to be the world's largest producer of NR, followed by Indonesia, Malaysia, India, China, Vietnam, Sri Lanka and a number of other countries. These countries lie within a band lying from 5° to 15° north or south of the equator and hence suitable for NR production. As per a report published in 2001, the world produces around 6.5 million tonnes of NR each year.
Related Articles