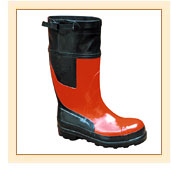 Rubber footwear comprises rubber shoes and boots widely used in various industries. These shoes are specially designed to be worn in corrosive environments, especially in chemical industry and mines. With its reinforced heel and toe, rubber footwear is designed to stand up to tough daily wear. That's why these shoes are considered the industry standard. Rubber has been used in the shaft and bottom of industrial boots to reduce the weight and improve the durability. These rubber shoes contribute comfort, hot and cold-temperature resistance, aesthetics and longevity all while reducing cycle times and improving lot-to-lot quality.
Types of rubber used in rubber boots
Properties
Injection molded. The shoes and boots are made in seamless construction for 100% waterproof protection.
It has excellent tensile strength.
The rubber footwear is ease of stretch and tear resistance for more durability.
It has comfort and style.
The footwear will not crack or stiffen in the coldest of weather.
Some rubber boot has deep cleated out-sole spits out debris for good slip resistance and longer wear.
Heavy duty heel kick-off cleat for easy no hands removal.
Sturdy and strong for secure closure.
No lining for easy cleaning and decontamination.
Less material in the upper portion of the shoe results in lighter weight and reduced leg fatigue.
Application
Rubber footwear is worn in almost every industry as a protective wear. Workers in chemical industry, road construction, mines make ample use of rubber boots. The industrial protective and safety footwear, provided with safety toecaps, are used for general and heavy duty use. The footwear is used in specific hazardous environments.