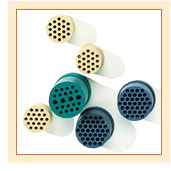 Polychloroprene rubber or neoprene has more than 75 years of proven performance in varied industrial applications. Neoprene, an extremely useful
synthetic rubber
, is the DuPont Performance Elastomer's trade name for a family of polychloroprene rubber (CR). In other words, polychloroprene is the polymer name for the synthetic rubber known as neoprene. This rubber was developed in 1931 and supposed to be the first specialty elastomer. This is one of the most important
types of synthetic rubber
with an annual consumption of nearly 300000 tons worldwide. Polychloroprene rubber has a perfect balance of mechanical properties and fatigue resistance which is second only to natural rubber. Neoprene rubber also has superior oil, chemical and heat resistance. This type of rubber (Polychloroprene rubber or Neoprene) is widely used in general engineering applications.
Neoprene Rubber Properties / Properties of Polychloroprene (CR)
Neoprene rubber does not has just one outstanding property, but its balance of properties is unique among the other types of synthetic rubber. The polychloroprene properties can be listed as follows:
Polychloroprene rubber has good mechanical strength.
It is high ozone and weather resistance.
Neoprene also has good aging resistance.
It has low flammability as one of its properties.
It has good chemicals resistance.
Polychloroprene rubber is moderately oil and fuel resistant.
Neoprene rubber properties include its capability of adhesion to many substrates.
Polychloroprene or neoprene rubber can be vulcanized by using various accelerator systems over a varied temperature range.
It is less resistant than natural rubber to low temperature stiffening. This helps in giving improved low temperature resistance.
Polychloroprene rubber can also be used easily with mineral oils, greases, dilute acids and alkalis.
Neoprene Rubber Applications
Neoprene rubber applications are many. This rubber is used in various technical areas, specially in the rubber industry. It plays a vital role as a raw material for
adhesives
which can be both -solvent based as well as water based. Polychloroprene rubber also has different latex applications (such as dipped articles like gloves), molded foam as well as improvement of bitumen. Neoprene rubber applications are widely spread which include moulded goods, cables, transmission belts, conveyor belts, profiles etc.
Neoprene Rubber Products
As is clear from the description of neoprene rubber applications, it can be easily understood that polychloroprene rubber is used for making various products. Some of the widely used neoprene rubber products include the following.
Neoprene Gaskets
Neoprene Gloves
Neoprene Sheet
Neoprene Strap
Neoprene Brace
Neoprene Wrap
Neoprene Knee
Other Types of Synthetic Rubber