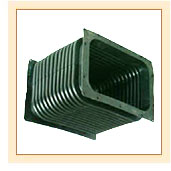 Cables and wires when lying unprotected on the ground or floor can result in unnecessary and irreversible damage to your equipment as well as the danger they impose on pedestrians. Rubber ducts are the ideal way to keep from tripping on loose cables and cords running across a walkway in home, office, commercial complexes, industries, factories, in a theater, reception area or even in nightclubs. The rubber ducts are used to cover, hide and protect cords, wires, and cables while keeping floors clear and safe. These ducts lay flat, stay flat and are very easy to install. They provide great cable protection.
Types of rubber used in making rubber ducts
Features of rubber ducts
Lay flat and easy to install
Skid-resistant grip to reduce slipping
Non-conductive
Heat-resistant
Available in various colors
Available in various sizes
Pre-split for easy installation over appliance or computer cords
Some rubber ducts may be secured to the ground or counter surfaces with double-sided tape.
They are flame and abrasion resistant.
Constructed to withstand heavy traffic and office wear and tear.
Uses of rubber ducts
At construction sites and other unconventional work environments, large cables, pipes, wires are often stretched across a work site to transport electricity, electronic data, water or compressed air. In such cases, many problems can occur. Continual foot or vehicle traffic can disrupt or even permanently damage the cables. Hence rubber ducts are highly popular and demanded for various applications. They are used in light vehicular applications. They are great for low light situations where lighting effects are a must. They are used by electrical contractors and distributors, electricians, and are used in environments such as carnivals, sporting events, and offices. Anywhere there is a generator, appliances, or just cables/wire on the floor, there is a need for a cord cover or rubber duct.