What is a Rubber Stamp?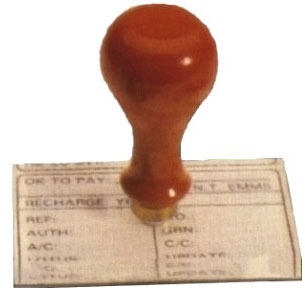 Rubber Stamp
A rubber stamp is a design or pattern which is molded, carved , engraved or vulcanized on to a rubber sheet, on which some ink is applied. It is to be noted that it is not completely made of rubber. Any design stamped onto surfaces is actually imprinted first into the rubber sheet having raised surfaces and this rubber is attached to a base commonly made of wood. Plastic and foam bases are also used for making a rubber stamp.
The ink made of any dye or pigment when applied on the stamp and pressed onto any type of medium, which can be a fabric or paper, we see the colored image on the surface. In other words, the colored image on it is transferred to the medium.
Rubber stamps are available in a variety of sizes, from a 1 cm or 1 inch wide single heart or star to complex outlines, geometry designs or floral scenes that could fill an entire paper sheet.
Types of Rubber Stamps
Rubber stamps that are available in the market can be grouped into three categories: Business, Decorative, and Toy Rubber Stamps
Business Rubber Stamps
Stamps for use in business or office:
A rRubber stamp for business purposes usually have the company's logo and address. In some cases, they are designed in such a way that they have changeable parts in the sense that the user can change the wordings or date in the stamp as per his wish. These business stamps are available in stationary shops and directly from the manufacturers too. Custom designs are also available. Such type of business stamps include address stamps and one line cheque stamps.
Decorative Rubber Stamps
Stamps used for decoration:
As already mentioned, rubber stamps are also used as a decorative crafts. Infact, decorative stamp is gaining popularity as an art form. By using a single color or segmented colors consisting of two or more colors in the ink pad, they are used to decorate and make objects like cards, paper crafts, gift bags and even for decorating dresses. The print or design that is formed is considered a work of art on its own. Different rubber stamps can be used together to embellish a work of art with other components. Batik print is a popular print in which they are used and here instead of ink, wax is used.
Toy Rubber Stamps
Stamps used in children's toys:
Rubber stamps with multiple designs with multicolor ink pad becomes wonderful playful objects for kids as they can create countless imaginary pictures. Nowadays rubber stamps in the form of English alphabets, numbers are also available to make the learning process for kids more enjoyable.
We cater to wholesale supply of rubber stamps. For bulk requirement of rubber stamps, stamping, decorative as well as custom rubber stamps, send us online enquiry and get prompt response from genuine suppliers.Click here to send enquiry.
Rubber Stamps Industry
Rubber stamps making is today considered one of the most flourishing industry. Varied stamps are produced by manufacturers and suppliers all across the globe for scrap booking, card making, paper crafts, and home decor projects. The rubber stamp industry presently consists of approximately 1,300 to 1,500 self-defined stamp makers in the US and their annual sale is approximately $500,000,000.
RELATED ARTICLES