Rubber magnets are made of a permanent flexible magnetic material which is available in sheet, strip, and extrusion forms, which can further be given various shapes like ring, square, segment, cylinder and other shapes.
Features of Rubber Magnets
Lightweight
Soft
Elastic
Stable
Easy to process
Energy saving
Absorb shock and sound
Very flexible
Can be easily stamped, slit, punched and laminated
Average temperature stability
Good resistance to demagnetization
Reasonable resistance to chemical agents etc.
Types of rubber magnets
Isotropic magnets: These are widely used for daily necessary industry and seen in toys, family education, printing and decoration etc.
Anisotropic magnets: These rubber magnets are made by extrusion or injection. Properties like high elasticity, flexibility and machine ability make these magnets a favorite choice for many permanent magnet applications in industry and in home appliances.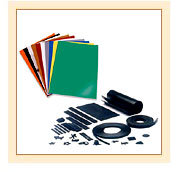 Uses and Applications of Rubber Magnets
Rubber magnets provide an alternative material for printing, holding, signage, and fastening applications. Designers, printers, marketers, salespeople, engineers, teachers, manufacturers, sign makers, material-handling specialists etc. all use rubber magnets. These magnets are ideal for applications where a low cost magnet needs to be combined with complex form precisely. These magnets are used in food industry, advertising industry, factory equipment industry, office and home etc. Some of the applications of rubber magnets are as follows:
Fastening devices
Displays
Advertising specialties
Nameplates
Printing
POP displays
Crafts
Message boards
Surface-mount signs
Floor signs
Vehicle signage
Architectural signage
Die-cutting
Teaching aids
Decorative magnets
Business cards
Calendars