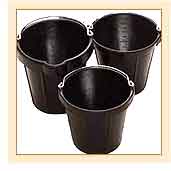 Rubber buckets have been in use since a long time for varieties of purpose. Made of different types of synthetic rubber, they are available in various colors & sizes. One most popular material used in making buckets is the tyre rubber waste or any recycled rubber, which is re-processed. Tyre rubber buckets are the ultimate as heavy duty containers. Using factory waste, tyre treads and raw rubber, these buckets are great for any person who really cares about the environment and prefers using long lasting quality recycled rubber products. There are different models, sizes and shapes of rubber buckets available in the market to choose from for a variety of industrial, construction & maintenance applications.
Properties of Rubber Buckets
Flexible
Soft
Strong
Non Toxic
UV and Frost Resistant

Rust Free
Crack Free
Bounce Back to Shape
Durable
Additional Features
Rubber buckets are also produced with galvanized fittings and can be used in heavy duty applications.
Some buckets come with markings for measuring thin to viscous liquids.
Some buckets are equipped with a molded pouring lip.
Types of rubber buckets
Flexible rubber bucket with
handles
Heavy duty rubber bucket
Light weight rubber bucket
General purpose rubber bucket
Industrial Bucket
Feed Bucket

Flat Back Bucket
Jumbo Bucket
Bucket with lid
Two Handled Bucket
Marine Bucket
Tanker bucket
Economy Bucket
Advantages of Rubber Buckets
The rubber buckets have a number of advantages over normal buckets such as follows:
The tough rubber material used in making buckets is flexible and soft.
Rubber buckets are versatile.
They are made tough & strong.
They are light weight compared to metal or wooden buckets.
Rubber buckets are UV and frost resistant which is not the case in wooden or metal buckets.
Tyre Rubber which is used in making buckets is naturally frost and sunlight proof.
Rubber buckets are non-toxic.
They can be produced in any shapes and sizes.
Because of the flexibility feature of rubber, rubber buckets can be used effectively for carrying anything starting from liquid to any king of solids.
Tyre rubber are soft but strong material is extremely safe for all livestock.
These rubber buckets can withstand severe use and abuse.
Uses of Rubber Buckets
Like a normal bucket, rubber buckets can be used for various purposes, with the added advantage of being light weight.
These buckets are used for carrying or storing water.
They are used to carry paint, sand and foodstuffs.
Rubber buckets are also used on agricultural fields and farms, to give feeds to animals or to collect fruits and vegetables.
Rubber buckets with galvanized fittings can be used as a mortar, concrete and plaster pail. The basic advantage is that hardened cement will not stick to the bucket as it drops out with no scraping or chipping. They are great for the construction industry and farm use. Such buckets also have many industrial applications.
Rubber buckets with molded pouring lip is ideal for cleaning compounds, general utility and cleaning masonry walls.
Can be used for drawing water from wells etc.
Buying Tips
Three important factors are to be considered for buying rubber buckets:
Weight
Capacity
Dimension
Other factors like colors, additional features like two handles, one handle, with lid, with pouring lip etc. depends on individual preferences.