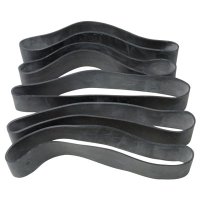 EPDM Rubber Bands
6 June 2011- Industrial rubber bands are the large, thick
rubber bands
used for various industrial works. They are manyfold stronger than the standard rubber bands used at home or as office stationery. These industrial strength rubber bands are made from heavy-duty rubber materials that can withstand rough and tough industrial environments. The industrial rubber bands can stretch two to three times more than their resting lengths. These rubber bands for industrial purposes are available in a variety of sizes. In addition, the clients with specific needs can get custom rubber bands of particular sizes according to their requirements. This article lists some popular industrial rubber band types and the specific industrial usage they are applied to.
Industrial Pallet Bands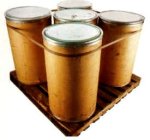 Pallet Bands
Pallet bands are the large rubber bands meant to secure tricky plies of parts and cartons. With pallet band sizes available from 24" X 34" to 48" X 72", the pallet bands provide an effective medium to protect against transit spills during warehousing and material handling operations. They can stretch up to 100- 150% of their relaxed length. Most of the industrial pallet bands are such manufactured that a single person can easily apply and remove them so that the industries using pallet bands can also save on labor costs.
Furniture Rubber Bands
Furniture bands are used mostly by the furniture industry and the movers and packers industry for furniture shipment. They are used for securing padding over finished wooden parts of furniture, holding glued parts or upholstery in place during shipping or even during furniture manufacturing. The standard furniture bands can be found in sizes that fit well to chairs to sofas and every other standard furniture. The usage of furniture rubber bands is not limited to the furniture industry only, they are even used by many factories and warehouses. The smaller rubber bands are used for holding liners in office trash cans or for bundling file folders. Large furniture bands can be used for holding drum liners, carton flaps or protective covers on a wide range of products.
Grafting Rubber Bands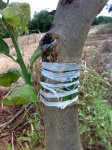 Grafting Rubber Bands
Tree grafting bands are the special types of rubber bands used by nurseries and greenhouses to hold the bud union gently and firmly in place for preventing air moisture seepage. Most of the rubber band manufacturers make frafting bands with
natural rubber
to do away with the environmental concerns. Further, for different types of grafting purposes, different rubber band types are used. For example, for grafting of fruit, berry and avenue trees etc. a rubber band having long durability and resistance to ozone and ultraviolet radiation is used whereas a soft elastic rubber band is used for greenhouse grafting.
EPDM Rubber Bands
EPDM rubber bands are the strength rubber bands for industrial uses in harsh working conditions to withstand such factors as extreme weather, chemicals, humidity and high temperatures. Most of these EPDM industrial rubber bands are UV and ozone resistant and are not affected by changes in temperature. These features make EPDM bands perfect for banding or bundling material for all-weather outdoor use.
RELATED ARTICLES