By: Epdm Coatings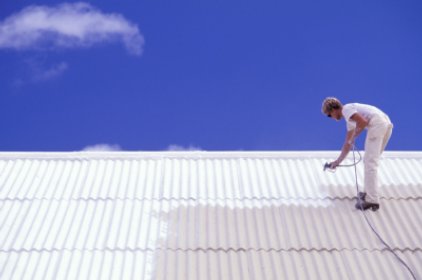 EPDM Rubber Coating
7 December 2010-
For roof repair,
rubber coating
had been an obvious choice for most of the people. No doubt, rubber coating for roof repair is an excellent way to preserve roofings and this tradition has been taken one step forward by EDPM rubber- the synthetic elastomer which is much more effective than a simple rubber coating. Read this article to know the properties of EDPM rubber and how this roof repair material proves beneficial for your home roofing. Rubber is the only material that people think of as being absolutely waterproof which has been proven with its use in vast range of products from Wellington boots, gloves to diving suites. EPDM is an extremely robust material, is extremely resilient to puncture or penetration, is not affected by atmospheric pollution, UV light ozone or acid rain and unlike most bituminous materials, it does not degrade, crack, or become brittle after long periods exposed to the harsh elements of the weather.
Over the years, EPDM has proven its longevity in Artic conditions, temperate zones and tropical climates, in fact, installations carried out in the early sixties are still giving outstanding performance to this day! EPDM rubber membrane, the once only installation is excellent for the flat roof renovation of older domestic roofs or brand new residential or commercial installations, resulting in a total waterproofing covering. Any flat roof will benefit immensely from this modern flat roofing material which flexes with ambient temperature variants and will not split, tear or become porous. It is not only suitable for flat roofs rather it also best fits metal roof, concrete roof, for RV roofs and other roofing types.
The commercial roofing industry goes back hundreds of years and, in that context, there are three "modern-day" roofing systems: EPDM (ethylene propylene diene monomer), PVC (polyvinyl chloride), and TPO (thermoplastic polyolefin). While they have their own individual advantages, one advantage they all share is that installation does not generate fumes. Emission of tar- and asphalt-based fumes is becoming a major roof-installation issue throughout the country
Properties of EPDM
Properties of EPDM
- EPDM is a synthetic elastomer made by combining ethylene and propylene with a diene monomer attached. This polymer (when cross linked) is a very good moisture barrier, resistant to oxidation and UV degradation but its most important property is its ability to tolerate both low as well as high temperatures (form minus 62 to plus 350 degrees Fahrenheit). EPDM rubber is used exclusively for radiator hoses, freezer gaskets and low temperature seals, steam hoses, and rubber roofing membranes. It is also blended with other rubbers to improve their properties, A multitude of products are now better and last longer because of the contribution made by EPDM rubber coating.
The EPDM rubber is relatively inexpensive, and it may come in very large rolls. Often it would take a large crew of men or mechanical equipment to unroll and manipulate the materials. It is the joint work, and the penetrations which are critical in this system, and the joint compounds, adhesives, and cover flashings are quite expensive and need to be installed with great care and attention to detail. Rare are there roofs with no joints or penetrations, or mechanical equipment on flat roofs, so such detail work is very important when considering an EPDM roof system.
Roof Repair with EPDM Coatings
Roof Leaks, if encountered by
EPDM Coatings
will give you long lasting waterproof roof. EPDM is one of the most versatile and long lasting materials ever manufactured for outdoor exposure. EPDM coatings have many advantages over other roofing options. It remains flexible at extreme temperatures, can be installed quickly, and resists deterioration from exposure to ultraviolet radiation.
Liquid
EPDM Rubber
is also a very effective coating for steel especially where it is exposed to a salt environment. It can be applied on roof, gutters, structural steel, air conditioner enclosures, cooling towers, galvanized steel, unit heater flues, smoke stacks chimneys, fiberglass and non porous masonry surfaces. Liquid EPDM Rubber can be applied directly over rusted or weathered metals without the need for costly and time consuming primers.
EPDM Rubber has had a long history of superior performance in hoses, molded products, tires and roofing membranes. For example, the radiator hoses in our cars and the gaskets on our freezer doors are made of EPDM rubber and show the broad temperature range the product can handle. EPDM Roofing Membranes also have more than 30 years of successful history. EPDM is relatively inexpensive, simple to install, and fairly clean to work with when compared to conventional materials. There are not the strong odors and fumes either. The product is very stable and the resulting characteristics of Liquid EPDM such as flexibility, weatherability and chemical resistance are determined by it.
The versatile membrane offers a variety of installation options including fully adhered, ballasted or mechanically attached that deliver superior long-term weatherability and exhibit exceptional wind uplift resistance. EPDM Rubber is the perfect solution for most flat roof problems. When leaks develop in an existing EPDM roof, the solutions are almost always simple. In most cases, repair and reinforcement of seams, flashings, and perimeter solves the problems, stops the leaks, and add many more years of life to your existing roof. Typical life span of a properly installed EPDM Rubber roof is 25 years or more. Retrieved from "http://www.articlesbase.com/diy-articles/epdm-coatings-595885.html"
(ArticlesBase SC #595885)
Related Articles
-
Liquid Rubber Coatings For Roof Coatings & Repair
About the Author
Author is keen to write on home improvement problems.
Liquid EPDM Coatings
EPDM Coatings
Article Source:
http://www.articlesbase.com/
-
Epdm Coatings